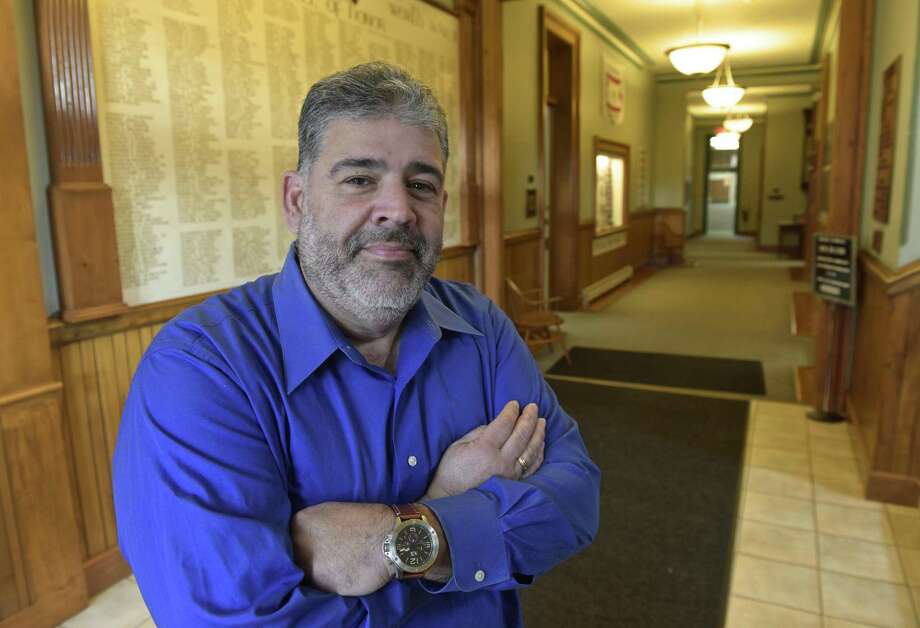 NEW MILFORD SPECTRUM — Mayor Pete Bass discussed economic development, improvement of the town's infrastructure and the challenges presented by state budget cuts during what is believed to be the first State of the Town address.
"This State of the Town address fulfills a pledge that I made as a candidate for this office," Bass told more than 50 people gathered at Town Hall Thursday night, "and it's a significant one, because I feel so strongly about the importance of transparency and government's obligation to keep our residents informed." The speech was also livestreamed on the town website.
Bass outlined four areas he hopes to focus on while in office: strategic planning and development, assessing town properties, improving roads and revising the Town Charter. Most of these initiatives are being addressed by committees, which Bass said are only advisory, noting that any decisions would be made by residents in a referendum. A special town meeting is already scheduled for 6 p.m. April 9 to approve a $6 million bond issue to fix the roads. "When a municipality does not evaluate its infrastructure, it sets itself up for financial difficulties," Bass said, referring to the coming review of town-owned land, buildings and athletic fields. He also stressed that the charter revision would enhance the town meeting style of government.
Bass started his address by highlighting his accomplishments during his first 100 days, including encouraging departments to use social media to engage the public and working with first responders and the public works department to expand the emergency plan for the flood zones along Route 7 and Grove Street. "This will save the business owners in the flood zone areas their precious capital as well as protecting the environment during potential floods," Bass said.
He also said the town faces a historic cut in state funding, which will force a change in how it operates, leading to layoffs, and require it to work with neighboring towns and New Milford schools to find ways to save on expenses. The town is also reviewing day-to-day spending and working to ensure all major projects are environmentally and economically sound. Bass said the town is getting about $3 million less in state money than in previous years. "Simply put, this was money pledged to us, relied upon by us as it had been for decades and then unceremoniously taken away," he said. "We are living in a new paradigm of less reliance on state revenues and more on New Milford ingenuity."
Bass said the newly reformed New Milford Economic Development Corporation will help attract businesses and investments. "To those considering New Milford as a place to open a business, we want you," Bass said. "We want your involvement. We want your investment. Here, you'll find friends. Here, you'll find support."
Bass also used the address to thank many groups and individuals, including first responders, department heads and the department of public works for their efforts clearing the snow from the four nor'easters this month — all of which were applauded by the audience. He also thanked his family and the residents for letting him serve as mayor. "Being your mayor is the honor of my life and I am so grateful to all of you for letting me do a job that I love so much," he said